[ad_1]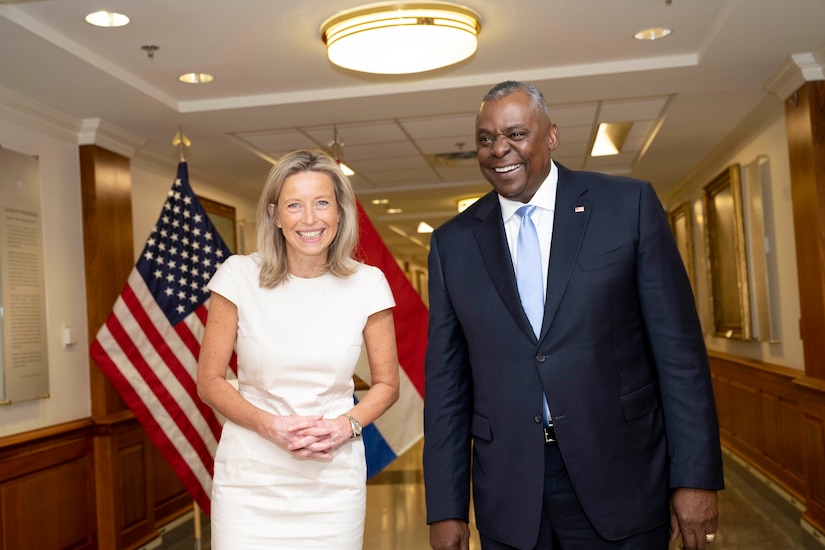 Dutch Defense Minister Kajsa Ollongren and Secretary of Defense Lloyd J. Austin III said they have never seen NATO more united than it is today. 
Ollongren and Austin met at the Pentagon today to discuss the next steps in opposing Russia's invasion of Ukraine and a raft of other issues, including working together in the Indo-Pacific region to maintain the rules-based international order. 
In remarks at the start of the meeting, Austin praised the Netherlands for supporting Ukraine. "I want to personally thank you for everything that you're doing to support the Ukrainian people as they defend their lives, their freedom and their democracy," he said. "The Netherlands has heeded Ukraine's calls for the offensive and lethal equipment— especially in high priority areas, such as artillery and coastal defense." 
The Netherlands is also reinforcing and reassuring frontline NATO allies by sending forces to Lithuania, Slovakia and Romania, he said. The secretary also praised the Netherlands for the European Union's efforts to sanction Russia's energy sector. 
The United States and the Netherlands cooperate far beyond NATO. The two countries work together in the Middle East, Persian Gulf and Africa to counter the threats of terrorism, Austin said. "We work together in the Caribbean to counter drug smuggling," he said. "And I know that the Netherlands is also committed to a free and open Indo-Pacific." 
Ollongren thanked Austin for his leadership in the effort to supply Ukraine with the equipment it needs to repel Russia's unprovoked invasion. "Our joint task is really to protect our important values and protect the freedom of the people," she said. "I also want to say… that, as a true leader of the Department of Defense, you have also shown that you can stand up for women's health." 
The Netherlands will achieve spending 2 percent of gross domestic product on defense in 2024. The Dutch military is buying state of the art capabilities, including F-35 Joint Strike Fighters and MQ-9 Reaper unmanned aerial vehicles. The defense minister noted that the United States and the Netherlands cooperate in high-tech defense in the cyber world and in space.  
Ollongen said the Netherlands recognized the United States as a nation in 1777. "Our relationship is based on common commitment, freedom and rights," she said.  
She said the Ukraine Defense Contact Group, which Austin leads. gathers allies and partners from around the world. "We have taken that support to a new level, pushing to do more and leading by example, and we stand ready to work with you and do everything we can to help you create and protect history," she said. 
[ad_2]

Source link